Can you Be The Better Dad,
even when times are tough?
When everyone else is crying, can you be the calm in the center of the storm, the open arms that make everyone in the family feel safe and loved?
Being a father isn't easy, but it's very rewarding when it's done well – rewarding to you, and rewarding to your lifelong little friends. When it's done badly…it can damage hearts, relationships, and lives.
You've got a big responsibility, taking care of your kids, of yourself, of your bank account, your house, and your partner. When you're not doing too well yourself, it's easier to make the wrong choice, to react instead of respond, to spread your frustration among your family.
Children will magnify the mood you bring to them, making your own personal fitness the single greatest factor you control in the harmony of your home.
This website is a collection of some ways you can Be the Better Dad, even when – especially when – times are tough.
About The Author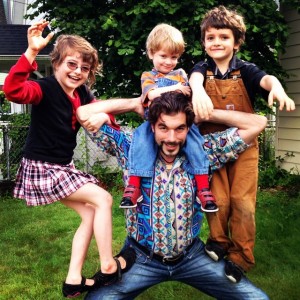 My name is Caelan Huntress. I'm a father of three children, husband to a pretty amazing wife, and I try to Be The Better Dad in every situation, every day of my life.
I don't always succeed. Not every time. But I have found it to be a lot easier for me to make the better choice, and Be the Better Dad, when I'm feeling fit, in 5 different ways:
Mental Fitness
Social Fitness
Emotional Fitness
Financial Fitness
Physical Fitness
When I'm feeling strong, and balanced, and calm, and happy, I can weather emotional storms, endure any toddler tantrum, clean any midnight mess, and handle it all with gentleness and grace.
When I am unfit in my mind, my body, my wallet, my heart, or my words, it becomes a whole lot easier to make the wrong choice, cause more tears, and make everything worse.
That's the power of a father.
We are mighty. We can be a positive guide and a haven of safety, or we can be an overbearing storm of destruction.
Our children, our partners, all our families, their lives are affected directly by how well we take care of ourselves.
My kids deserve to see me at the best I can be, so I keep myself in good shape – physically, mentally, and emotionally – in order to Be the Better Dad no matter what happens.
I've been collecting good habits for years, believing in the maxim of Aristotle: "We are what we repeatedly do. Excellence, then, is not an act, but a habit." I write a newsletter called Habits of Excellence, and I've customized my favorite habits into dad-friendly versions on this website.
I'm also a digital media producer, and I write quite a lot. Subscribe to this blog to keep in touch. I'll send you 10 worksheets on improving your Work-Life Balance if you do.